---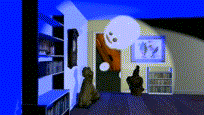 Based on the Halloween animated short film
Spooks!
, these are short sequences designed to be incorporated in your own
Halloween projection-based displays
. They are seemlessly loopable on their own or can be used as an element in your own production.





T

he All-Seeing Eye


These are three variations of The Eye that appears in

Spooks!



The eye darts from one place to another, stopping to examine what it sees at each point. This special version of The Eye also has a gelatinous mucous layer surrounding the eye which jiggles as the eye moves and a visible neural stem hanging off the lower back. It is a full 3D model with blood vessals visible just under the surface and visible depth and parallax in the lens and pupil as it moves.

We are making three variations of The Eye available, A single large eye, two eyes side by side, and three eyes arranged in a triangle. In the versions with more than a single eye, all the eyes track together. All versions have a solid black background making it easy to fit almost any projection area. Get the version that suits your needs the best!

more...






Hellfire


As seen in

Spooks!

Eternal fire burns hot in the pit of hell. A lava demon darts about watching over his wards, until he tires of it and...

more...




Cave Doll


Based on the scene in

Spooks!

A doll walks out of a cave opening from the nether regions surrounded by the skeletal remains of unsuccessful adventurers. She walks over, looks at you, points to the cave opening, and shakes her head warning you of what's inside. Works great on a large wide projection area like a garage door. The dolls shadow lends an eerie 3D feeling, like she is walking out of the scene!

more...




Flythrough


Flying deeper and deeper forever - skeletons, ghosts, a cat, devil eyes, and a jack-o-lantern come flying up and by you. As seen in

Spooks!

more...

"Alien" - Coming for You!
This is a very short (13 seconds) animation by Ivars Vilums of an "alien" like creature flying into view, stopping to stretch, and then lunging at the camera. It was an early test sequence created during the making of "

Spooks!

" but never used. In spite of several flaws it has a charm of its own and we've had many requests for copies so we are making it available for all to use at no cost. Released to the public domain.

Alien Creature - 1080p only free download now (mp4, 5.2MB) Check out more free stuff!!!



Spooks!
The complete story. It is the source of the models used to create the Elements series. Just over 3 minute long, this animated Halloween theme short film is accompanied by a new realization of J. S. Bach's "Toccata and Fugue in D Minor" (Get a free copy of the complete soundtrack here!) Starting innocently enough, one scene leads into the next like an old funhouse ride. Written and designed to be played in a continuous loop or stand alone. It can projected onto a window or door or enjoyed just as is on your TV or PC.

more...
Buy the complete downloadable set of all Spook Elements

+ the short film "Spooks!"
(both 720p & 1080p)
at a special price of just $24.75!
That's a savings of 13% over buying them separately!
---
A production of

check out more of our videos on
Our YouTube Channel
and
MoFilm
!
Questions or comments? write us:
info@eastjesus.net
---