---
News Clips About Nobell Communications, Inc. circa 1998
In the days of dial-up Internet access and $1,000/month T1's, Nobell's premise was to provide affordable broadband Internet wirelessly to everyone along with a variety of connected devices (presaging the "Internet of Things," see poster) using a decentralized encrypted peer-to-peer routing network of geographically distributed autonomous ground-based satellites called Terralites. Even though it had numerous customers throughout Austin, Texas and thousands on a waiting list, it succumbed to internal and external politics. Records and patents applications were destroyed and very little information survives.
From the Austin American Statesman, April 9, 1998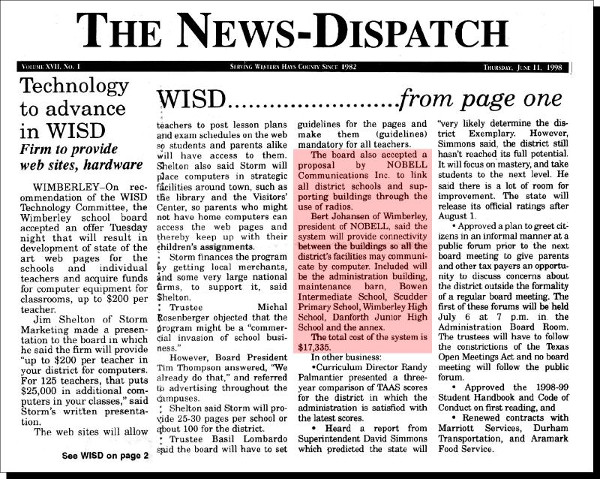 What Can You Do With the Internet?
(Poster by Ivars Vilums for Nobell Communications circa 1998
Nobell Network Architecture
Design Overview of the "Customer Premises Interface" aka "Intelligent Interface Unit"
More about the Wireless "Black Browser" web tablet
Needed: A Real Internet
(article by Ivars Vilums, founder of Nobell, proposing a free and open "universal service" using existing infrastructure.)
---
Copyright 2019 by The Eastjesus Company. All rights reserved.
---
Go to the home page of